Spicy Apricot Glazed Wings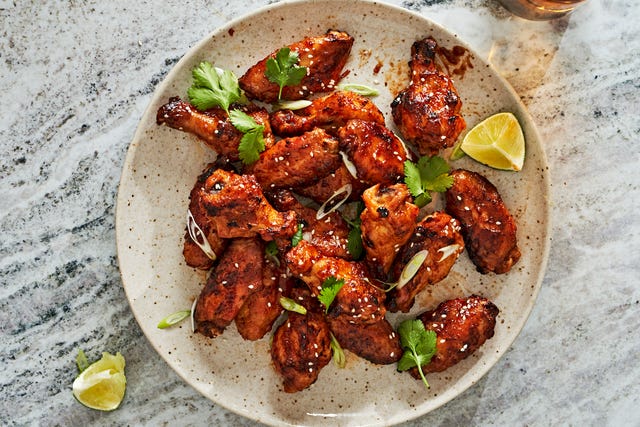 If you're looking to expand your horizons beyond classic buffalo wings, this recipe is a great place to start. They're just as spicy, but also super savory, sticky, and juuust sweet enough. With a sauce like this, you don't even need blue cheese dressing. (Then again… we're not stopping ya!)
We like our wings extra crispy – that's why we opt to air dry the wings overnight in the fridge when time allows. The drier the wings, the crispier the end result, plus seasoning in advance allows time for the salt to penetrate the meat. If you don't have time to do all this, just make sure to dry your wings super well with paper towels, and season them on all sides with salt. The addition of baking powder is also key for browning (just like in June's steak fries!), so it's worth using no matter how much time you have.
Do you like things extra spicy? Once your sauce is made, taste it and add more Sriracha if you like!
Made these? Let us know how it went in the comment section below!
| | | |
| --- | --- | --- |
| Yields | Prep Time | Total Time |
| 4 | 8 hr 10 min | 8 hr 55 min |
Ingredients
Vegetable oil, for rack
2 lb. chicken wings
2 tsp. kosher salt
1 1/2 tsp. baking powder
2/3 c. apricot jam
1/4 c. reduced-sodium soy sauce
1/4 c. sriracha
2 tbsp. sesame seeds
2 tbsp. butter
4 tsp. garlic cloves, grated or minced
2 tsp. fresh ginger, grated or minced
1 1/2 tsp. Chinese five spice powder
2 tbsp. lime juice
2 tsp. toasted sesame oil
Thinly sliced scallion and/or cilantro leaves, for garnish
Lime wedges, for serving
---
Directions
Line a baking sheet with aluminum foil and fit with a wire rack. Add about a teaspoon vegetable oil to a piece of paper towel and grease the wire rack.
In a large bowl, combine wings, salt, and baking powder and toss to coat. Place on prepared rack, making sure that no wings are touching. Place in the refrigerator uncovered, ideally for at least 8 hours, and no more than 24.
When ready to cook, preheat oven to 450°. In a medium bowl, whisk to combine jam, soy sauce, Sriracha, and sesame seeds.
When oven is preheated, place wings on center rack and bake for 20 minutes.
Meanwhile, make sauce: In a medium saucepan over medium heat, melt butter. Add garlic, ginger, and five spice, and cook until fragrant, 1 minute.
Add jam mixture to pan and cook, stirring constantly, until sauce has thickened, about 5 minutes. Remove from heat and stir in lime juice and sesame oil. Transfer sauce to a large bowl.
When 20 minutes are up, remove wings from oven and use tongs to flip them. Return to oven and cook until wings are browned all over, about 15 minutes more.
Add cooked wings to bowl with sauce and toss well to coat. Transfer to serving platter, top with herbs, and serve with lime wedges on the side.