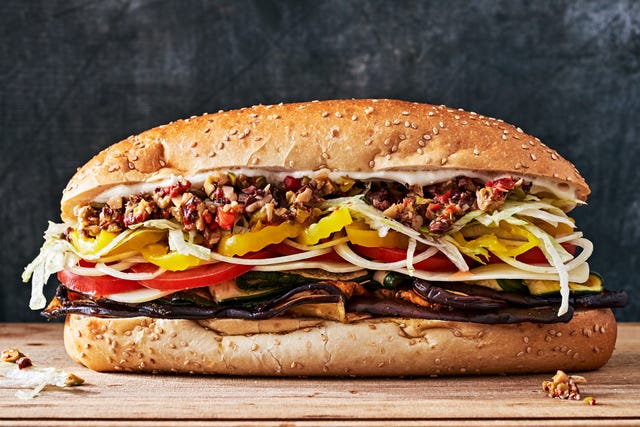 The king of all the various filling options was the eponymous Italian Hero, a sandwich filled to the brim with all manner of cured meat, cheese, and refreshingly crisp vegetables. They're also the ultimate party food, perfect to pair with wings, chips, and a cold beer.
Sure, the meats were a huge part of the draw, but I was really fixated on the veggies: the olives, peppers, ice cold shredded lettuce and paper thin onions, that had me craving the sandwich over and over again. With this in mind I set out to make a veggie version of this classic sandwich. We sub the meat for planks of zucchini and eggplant to offer some heartiness.
The most controversial thing about this recipe might be my addition of mayo. I know for some purists this might be a heretical addition, but something about that extra bit of creamy, richness helps to bind the sandwich together both in flavor and in structure. Another tip is to keep all of your toppings cold! This is a huge part of the appeal of this sandwich.
Want to make this sandwich vegan? Either omit the mayo and cheese or swap in your favorite vegan alternatives.
If you made this sandwich, let us know how it came out in the comments below.
| | | |
| --- | --- | --- |
| Yields | Prep Time | Total Time |
| 4 – 5 | 15 min | 1 hr 30 min |
Ingredients
1/2 c. pitted green olives, such as castelvetrano or manzanilla
1/2 c. pitted dark olives, such as kalamata or niçoise
1/3 c. canned artichokes, roughly chopped
1/3 c. roasted peppers (fresh or jarred), roughly chopped
3 cloves garlic, roughly chopped
3 tbsp. extra-virgin olive oil
1 tbsp. capers
1 tbsp. red wine vinegar
FOR THE SANDWICH
2 medium eggplants (about 1 ½ lb), sliced into ¼" planks
2 medium zucchini (about 1 ¼ lb), sliced into ¼" planks
Kosher salt
9 tbsp. extra-virgin olive oil, divided
1 tbsp. soy sauce
2 tsp. oregano, divided
1 tsp. garlic powder
1 tsp. smoked paprika
Kosher salt
Freshly ground black pepper
2 foot long (or four 6') Italian style sub rolls
1/4 c. red wine vinegar
1/4 lb. provolone cheese
2 tomatoes thinly sliced
1 small red onion, thinly sliced
1/2 c. jarred peppers, such as banana, Calabrian or sweet peppers
1 small head iceberg, thinly sliced
3 tbsp. mayo, optional
---
Directions
FOR THE OLIVE SALAD
Add all ingredients to a food processor and pulse until ingredients are broken up into similar-sized small chunks. You can accomplish the same results without a food processor by finely chopping all the ingredients then stirring in the oil and red wine vinegar.
Season to taste with salt and pepper then refrigerate until ready to use
FOR THE SANDWICHES
Set one oven-safe wire racks into each of two baking sheets. Place the eggplant slices on one, and the zucchini on the other. Salt both eggplant and zucchini slices with about 1 tablespoon salt on all sides. Let sit for at least 30 minutes and up to 1 hour. Then pat dry vegetables thoroughly with a paper towel.
Adjust oven racks to lower and center positions, and preheat to 425º.
In a large bowl, combine 5 tablespoons oil, soy sauce, 1 teaspoon oregano, garlic powder, paprika, 1 teaspoon salt, and ½ tsp black pepper. Toss the zucchini in the mixture until fully coated then transfer it to its rack on the baking sheet. Then toss the eggplant in the mixture and transfer it to its rack on the baking sheet.
Transfer the sheets (with the veggies still on their wire racks) to the oven and roast for about 20 to 25 minutes, switching the sheets halfway through, until the veggies are tender and have browned slightly. Set aside to cool.
Meanwhile, in a medium bowl, whisk together the remaining 4 tablespoons oil, red wine vinegar and remaining 1 teaspoon oregano. (These ingredients can also be added to a squeeze bottle and shaken.)
Assemble the sandwiches: Slice the bread and scoop out the inner bread of only the top half of each. Sprinkle both sides of the bread with the oil and vinegar mixture.
Begin layering with the roasted vegetables followed by provolone. Add the tomatoes, onion, peppers, and iceberg. Spread a layer of mayo (if using) to the top half of the bread then fill the space left by scooping out the bread with olive salad.
Slice the sandwiches into equal portions, stab with toothpicks and serve.