Bacon Jalapeño Corn Chowder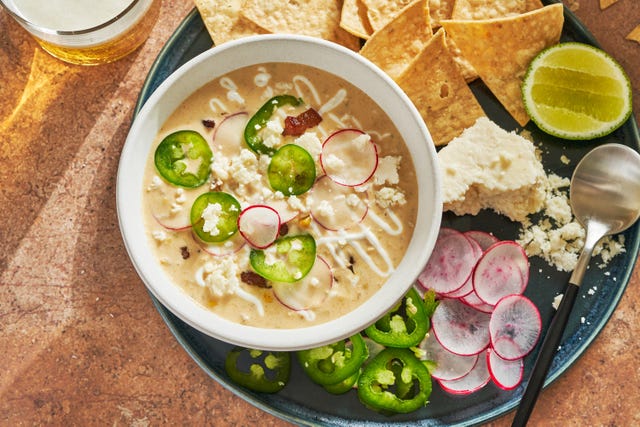 To start the soup, we made what is essentially a corn "bone" broth, simmering the cobs (sans kernels) in chicken stock for about 40 minutes. The cobs, much like pork or beef bones, hold a ton of corn flavor and this process helps to extract it and impart the essence of corn into the soup.
We sprinkled the top with cotija cheese and Mexican crema. We also added some thinly sliced radish and fresh jalapeño for an extra kick, but you can truly go wild with whatever garnishes you can think of.
| | | |
| --- | --- | --- |
| Yields | Prep Time | Total Time |
| 5 – 6 | 10 min | 1 hr 30 min |
Ingredients
6 ears of corn, shucked
2 medium onions, divided
4 garlic cloves, divided
2 bay leaves
5 c. chicken stock
3 tbsp. butter
2 slices thick bacon, chopped
2 jalapeño, separated
1 tsp. paprika
Kosher salt
Freshly ground black pepper
2 tbsp. all-purpose flour
1 1/2 c. heavy cream
Juice of 1 lime
Sliced radish, for topping
Cotija cheese, for topping
Crema, for topping
---
Instructions
Hold an ear of corn on one end with the other end standing in the bottom of a large bowl. Use a knife to shave the kernels off the cob. The kernels should collect in the bowl. Reserve cob and repeat with rest of the corn. Add cobs to a large pot along with chicken stock, 1 quartered onion, 2 smashed garlic cloves, and bay leaves. Bring up to a boil, then reduce the heat to a simmer, and allow to cook for 40 to 50 minutes until the stock has been infused with the corn flavor.
While stock simmers, melt butter in a large pot (or Dutch oven) over medium high heat. Add kernels and cook until golden and cooked through, about 10 minutes. Return cooked kernels to bowl and reserve for later. Wipe the pot clean and allow it to cool slightly.
Add bacon to cooled pot and cook until fat is fully rendered and bacon is crispy, 5 to 7 minutes. Transfer bacon to a paper towel-lined plate. Add onion and 1 minced jalapeño and cook, stirring occasionally, until soft, about 10 minutes. Season with paprika, salt, and pepper.
Strain prepared corn stock. To pot, add flour and toss veggies to coat. Cook until raw flour is slightly toasted, about 1 minute. Slowly pour in the strained stock, whisking to make sure no clumps form. Bring to a boil and allow to thicken slightly, then stir in cream and ⅔ of the cooked corn.
Using an immersion blender, blend soup until you reach your desired consistency. Add remaining corn and bacon.
Cook for 5 minutes more to allow the flavors to develop. Add lime juice and season to taste with salt and pepper.
Serve with sliced radish, sliced jalapeño, Cotija, and crema for topping.