Jack Skellington Candy Apples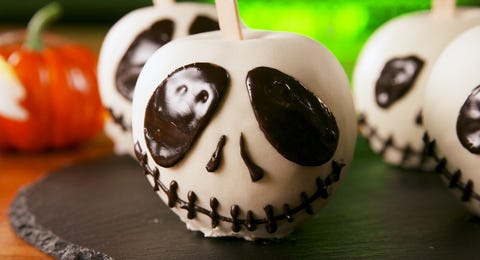 These apples are much easier to create than you might think. Be sure to measure out the coconut oil before adding. 1 tablespoon per cup of chocolate creates the perfect consistency for a smooth and dippable chocolate that dries nicely.
Have you made this yet? Let us know how it went in the comments below!
YIELDS
4 SERVINGS
PREP TIME
30 MINS
TOTAL TIME
30 MINS
INGREDIENTS
2 c. White chocolate chips
2 tbsp. coconut oil
4 Granny Smith apples
2 c. powdered sugar
2 tbsp. milk
black food coloring
DIRECTIONS
In a large bowl melt together chocolate chips and coconut oil. Dip apples into melted chocolate and place on a baking tray lined with a cooling rack. Refrigerate 10 minutes or until hardened.
In another large bowl, mix together powdered sugar, milk, corn syrup, and black food coloring. Transfer to a piping bag or a ziploc bag.
Pipe eyes, lips, and nose. Let set another 10 minutes to harden.