Shrimp & Snow Pea Stir Fry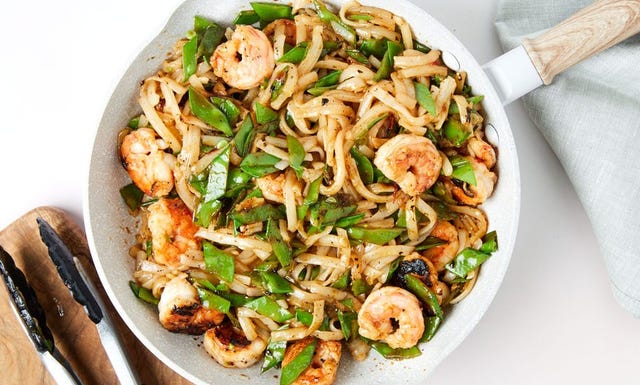 This dinner is the perfect fix for a busy week night. Only 5 ingredients and 1 skillet and you're on your way!
Mix and Match
This recipe is super versatile and can be suited to whatever your tastes are. Swap the sweet chili garlic sauce for your favorite brand of hoisin, oyster sauce, sweet and sour sauce or pad thai sauce. As long as you stick to the package directions, feel free to sub in any stir-fry friendly noodle your heart desires. The snow peas aren't mandatory either! Other quick cooking veggies like sliced asparagus or chopped bok choy would shine here as well. Don't be afraid to go fridge diving for fun things to add!
Time Saving Tips
Make sure to start soaking your noodles before you do anything else! They have the longest lead time and will be able to cook while you prep the shrimp and snow peas. To save even more time, you can prep the shrimp a day ahead and give it more time to marinate. Choosing a noodle that can be soaked eliminates the need to break out an extra pot but quick cooking noodles, like udon, would be a yummy reason to wash an extra dish. Keep in mind that thinner noodles will generally cook faster than thicker noodles. The final step of this recipe brings everything together pretty quickly. Be sure to have all of your ingredients in bowls, and ready to go for the final step.
Seriously, only 5 ingredients
Assuming salt and pepper are pantry staples, this recipe can really be pulled off with only 5 ingredients. Allowing the shrimp some time to marinate adds an extra layer of flavor to really make those 5 ingredients stretch. But DON'T let that stop the imagination from flowing. Just like you can swap the ingredients, you can add more as well!
Have you made this yet? Let us know how it went in the comments below!
YIELDS
4 SERVINGS

PREP TIME
0 HOURS 10 MINS
TOTAL TIME
0 HOURS 45 MINS
INGREDIENTS
8 oz. rice linguini noodles
8 oz. raw shrimp, peeled and deveined
Kosher salt
Freshly ground black pepper 
1/4 c. plus 1 tbsp. sweet chili sauce, divided
8 oz. snow peas, sliced on the diagonal
2 tbsp. Canola oil, divided
DIRECTIONS
Step 1

Bring 3-4 quarts of water to a boil and remove from heat. Place rice linguine noodles in a large metal or glass bowl and cover in hot water for 25 minutes, stirring with a fork frequently to break up any noodle clumps. After about 15 minutes water should be cool enough to pull out and separate any clumped noodles.

Step 2

Rinse shrimp and place on a paper towel lined plate. Pat dry and season with salt and pepper on both sides. Add shrimp and 1 tablespoon sweet chili sauce to a container with a lid. Refrigerate for at least 15 minutes and up to overnight. 

Step 3

Drain and rinse noodles and return to the bowl. Gather your ingredients (noodles, shrimp, remaining 1/4 cup sweet chili sauce, and snow peas) in bowls and place on a sheet tray next to the stove. 

Step 4

Heat a large skillet or wok over high heat. Add 1 tablespoon oil and swirl in pan to coat. When you see the first wisp of smoke, add shrimp and cook until they begin to turn pink, 1 minute each side. The sugars in the sweet chili sauce should caramelize just a little bit and create tasty bits in the pan. 

Step 5

Make space in the middle of the pan, add remaining 1 tablespoon oil and sliced snow peas and cook 2 minutes. Add prepared noodles and ¼ cup of sweet chili sauce. Continue to cook until noodles are coated and heated through, about 4 to 6 minutes. Serve immediately.