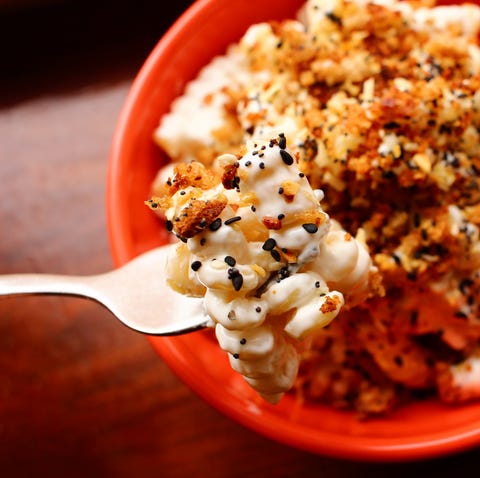 If you love crunchy, savory breadcrumbs on creamy pasta, you'll love this dish. You might even want to marry it. I don't blame you, I kinda do too: It's forgiving, free of complications, comforting and eager to please. The good thing is, it only takes about 20 minutes to make and you can absolutely have it for every meal, for better or for worse, for richer, for poorer, in sickness and in health, to love and to cherish forever and ever. Below, we have some tips to spice this marriage up and make it as perfect as can be.
Choose your pasta
Fusilli corti bucati is what I went with here: It's got a typical fusilli corkscrew shape, but is rounded with a hollow center, like a spiraled bucatini. Similar to cavatappi, this fun shape has a nice chew and clings to the creamy sauce nicely. Because it's hollowed, it cooks faster than expected, between 5 and 6 minutes.
You can use whatever cut of pasta you prefer or have on hand, because happiness and variety are key to a long-lasting marriage. Switch it up every time you make this recipe for a slightly different eating experience—just make sure you are cooking to al dente and no further, for the best mouthfeel. Nota bene: Proper al dente is usually 2 to 3 minutes short of what's recommended on the package. Be sure to keep checking in and taking small bites of the pasta to ensure it's not being overcooked.
Salting your pasta water
Because we are using the pasta water to create our cream cheese sauce, it's important to season the cooking water properly. For 8 ounces of pasta, use 4 cups of water and 2 teaspoons of kosher salt. If you want to make a bigger batch to use up the whole pound of pasta, increase the water but keep the same salt amount: about 6 cups of water to 2 teaspoons of kosher salt should be just fine.
Many pasta box instructions call for boiling your noodles in 4 to 6 quarts of water, an amount that is totally unnecessary. For this recipe, the starchy water is crucial to creating a smooth, emulsified sauce with the cream cheese that clings just so to our noodles. In our case, the less water we use, the starchier the cooking water becomes, and the better the sauce consistency.
Homemade vs. store-bought everything bagel seasoning
This recipe calls for making your own everything bagel seasoning in the bread crumb mixture, but you can definitely use a store-bought version. Just be aware that there is no way to control the salt content if you are using a packaged seasoning blend: skip the flaky sea salt in this recipe if your blend is already salted.
Have you made this yet? Let us know how it went in the comments below!
YIELDS
2 – 3 Servings
PREP TIME
0 HOURS 5 MINS
TOTAL TIME
0 HOURS 25 MINS
INGREDIENTS
8 oz. rice linguini noodles
1/2 c. panko or homemade coarse bread crumbs
1/2 tbsp. flaky sea salt
1/2 tbsp. dried garlic flakes
1/2 tbsp. dried onion flakes
1/2 tbsp. black sesame seeds
1/2 tbsp. white sesame seeds
1/2 tbsp. poppy seeds
4 c. water
2 tsp. kosher salt
8 oz. short pasta, such as fusilli corti bucati
5 oz. cream cheese
Thinly sliced chives, for garnish
DIRECTIONS
Step 1

In a small skillet over medium-low heat, melt butter. Add in bread crumbs and flaky sea salt and stir until toasted and golden, 3 to 4 minutes. Add in dried garlic, dried onion, sesame seeds, and poppy seeds, stirring until well-combined, 1 minute. Remove from heat and set aside.

Step 2

In a large pot over medium-high heat, bring water and salt to a boil. Add in pasta and let cook until al dente, about 6 minutes. Reserve 1 cup pasta water, then drain pasta and set aside.

Step 3

Return pot to low heat. Add in ½ cup reserved pasta water and cream cheese, whisking until smooth, about 2 minutes. Add in cooked pasta and toss in sauce to coat evenly. If a thinner sauce is desired, gradually add in remaining pasta water until ideal consistency is achieved.

Step 4

Sprinkle with everything bagel seasoning bread crumbs and chives before serving.