Sweet Crispy Korean Fried Chicken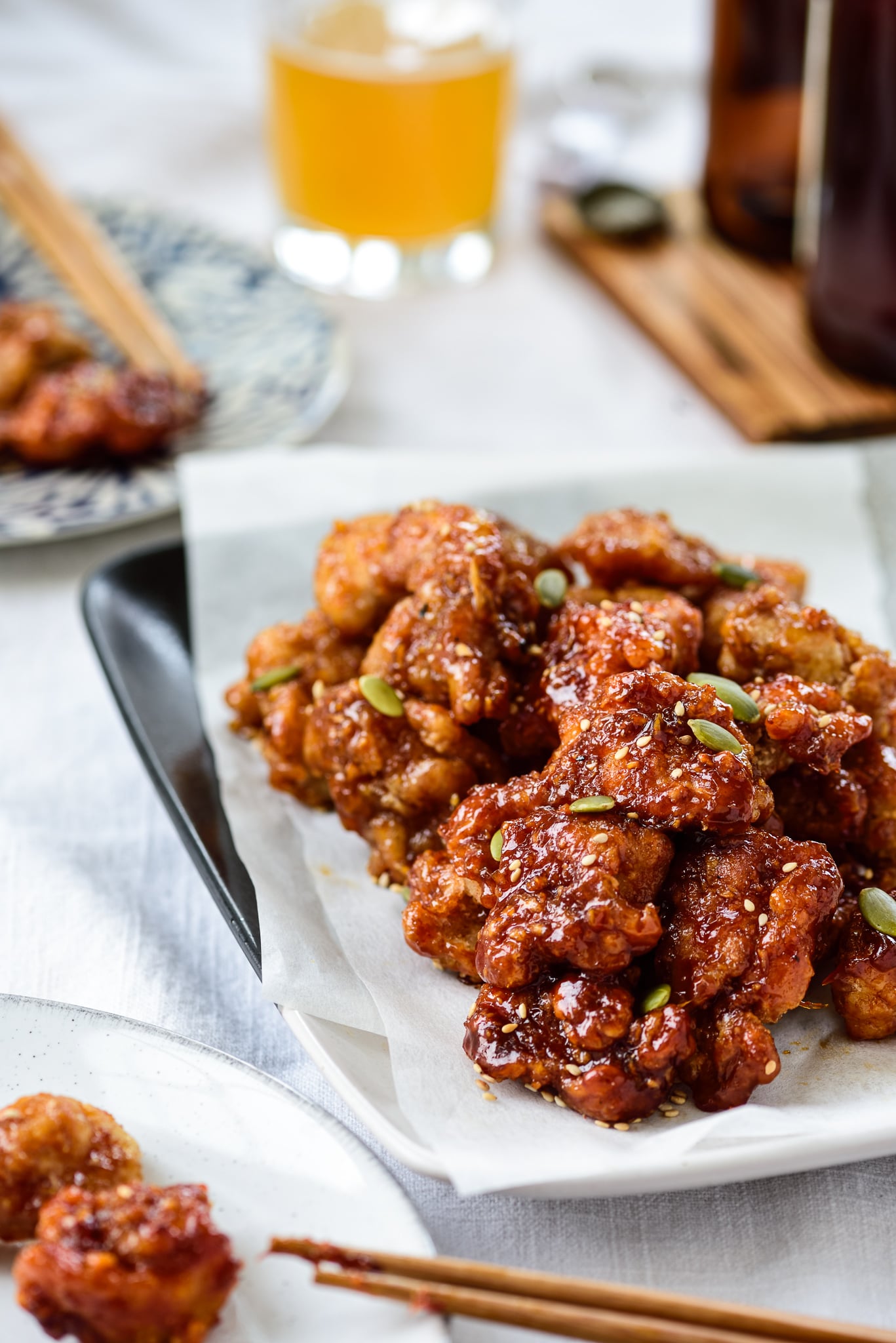 Ingredients
1 pound boneless skinless chicken thigh and/or breast
½ cup milk optional
¼ teaspoon salt
pinch pepper
½ teaspoon minced garlic
½ teaspoon minced ginger
1 tablespoon rice wine if not using milk
A cup potato starch or corn starch
Oil for deep frying
Sauce
1 tablespoon soy sauce
3 tablespoons rice wine or mirin
2 tablespoons apple cider vinegar or rice wine vinegar
1 tablespoon gochujang, 고추장 (Korean red chili pepper paste) Omit for a mild version and add 1 more tablespoon soy sauce (Also see note)
3 tablespoons honey or corn or rice syrup (use 4 tablespoons)
2 teaspoons sesame oil
2 tablespoons brown sugar
1 teaspoon minced garlic
1 teaspoon grated ginger
Pinch pepper
Garnish
1 to 2 tablespoons coarsely chopped peanuts or seeds
Instructions
Remove any visible fat. Cut the chicken into bite sized pieces.
Soak the chicken pieces in milk for at least 30 minutes in the fridge. This step is optional.
Drain well. Mix with the salt, pepper, rice wine (if you didn't use milk) garlic, and ginger. Let it sit for 20 to 30 minutes.
In a pan, add all the sauce ingredients, and stir well. Bring it to a boil. When it starts to bubble, reduce the heat to medium low, and simmer until it thickens slightly, about 3 to 4 minutes. Turn the heat off.
Coat each chicken piece well with the potato (or corn) starch.
Pour about 1 inch of oil in to a heavy bottom pan. Use a narrow and deep pan if available, When the oil is sufficiently hot (330°F), drop the chicken pieces in one at a time. Fry them in two batches. Overcrowding will drop the oil temperature too quickly. Cook until light golden brown, about 3 minutes. Remove and set them on a wire rack or a paper towel-lined plate.
Reheat the oil to 330°F. Deep fry again until golden brown, about a minute or two. You can do the second frying in one batch.
Notes
You can also boost the heat level by simmering the sauce with a little bit of gochugaru (Korean red chili pepper flakes) or whole dried red peppers.