3 Memorial Day Recipes for Your Holiday Weekend Menu!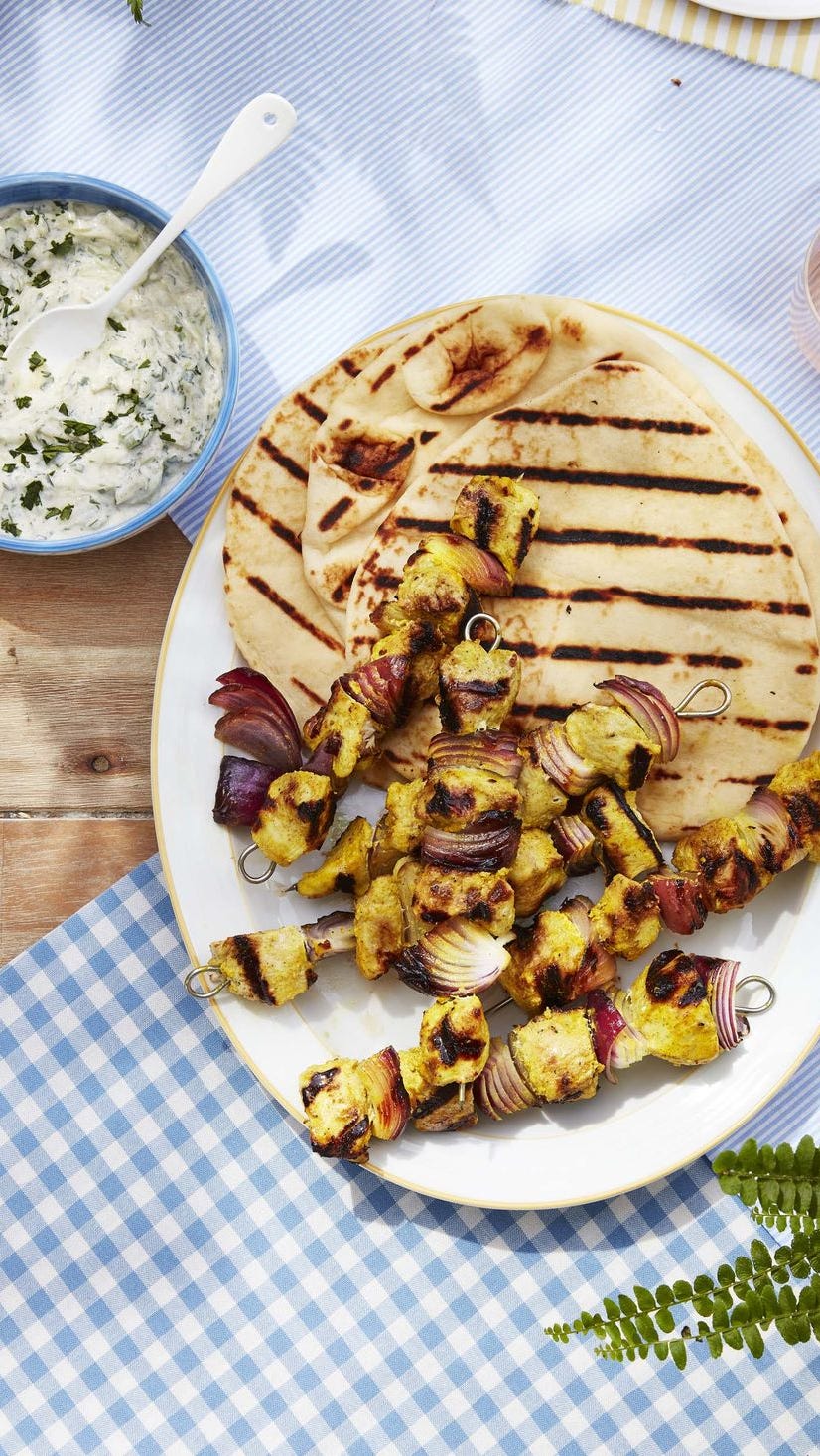 Marinated Chicken and Onion Kebabs
Ingredients
1/2 c. plain yogurt
2 plain yogurt
2 cloves garlic, grated
1 tbsp. grated fresh ginger
1 tsp. garam masala
1 tsp. ground turmeric
2 tsp. lemon zest, plus 2 tablespoons lemon juice
Kosher salt and freshly ground black pepper
1 1/2 lb. boneless, skinless chicken breasts, cut into 11/2-inch pieces
Canola oil, for grill grates
1 medium-size red onion, cut into 1-inch wedges, then halved crosswise
4 pieces flatbread or naan
Cucumber and Cilantro Yogurt Sauce
Directions
Combine yogurt, garlic, ginger, garam masala, turmeric, lemon zest and juice, and 1/2 teaspoon each salt and pepper in a bowl. Add chicken and stir to combine. Let marinate 15 minutes.

Heat grill to medium. Once hot, clean and lightly oil grill grates. Thread chicken and onions onto six large skewers. Grill, turning occasionally, until chicken is cooked through and onion is just tender, 8 to 10 minutes. Grill flatbread until lightly toasted, about 1 minute per side.

Serve kebabs and flatbread with Cucumber and Cilantro Yogurt Sauce alongside.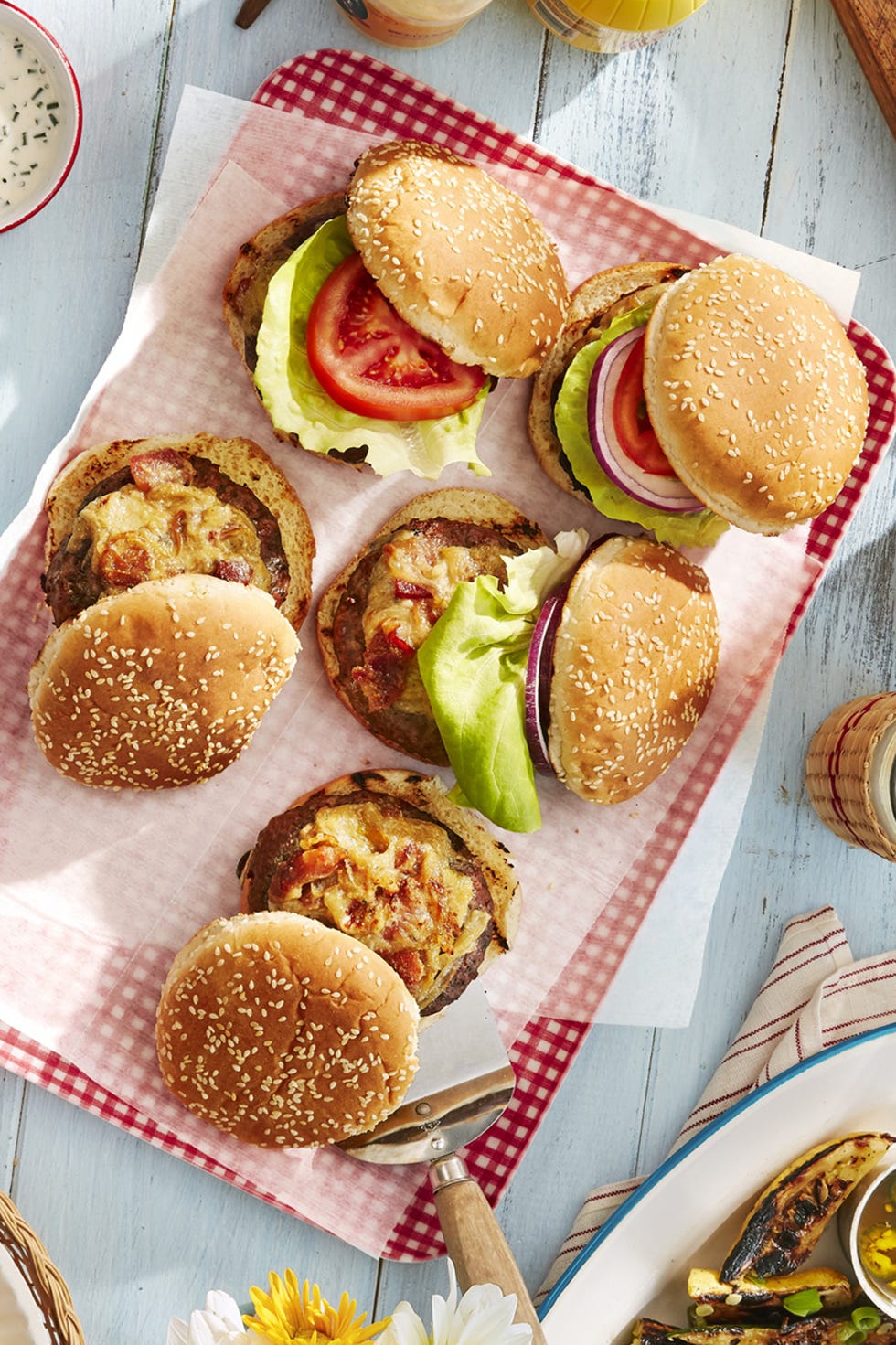 Worcestershire-Glazed Burgers
Ingredients
Canola oil for grill grates
2 1/2 lb. ground beef
Kosher salt and freshly ground black pepper
3 tbsp. Worcestershire sauce
8 hamburger buns
Cheese, lettuce leaves, pickles, and sliced tomatoes, for serving
Directions
Set up grill for direct cooking and heat to medium-high. Once hot, clean and lightly oil grates with oil.
Gently shape beef into 8 balls, then flatten into 3/4-inch-thick patties. Using your thumb, make a shallow (1 1/2-inch-wide) indent in the top of each patty. Season with salt and pepper.
Grill patties, indent sides up, until browned and patties easily lift from the grates, 3 to 4 minutes. Flip and grill, basting with Worcestershire, to desired doneness, 3 to 4 minutes more for medium.
Serve burgers on buns with cheese, lettuce, pickles, and tomatoes alongside.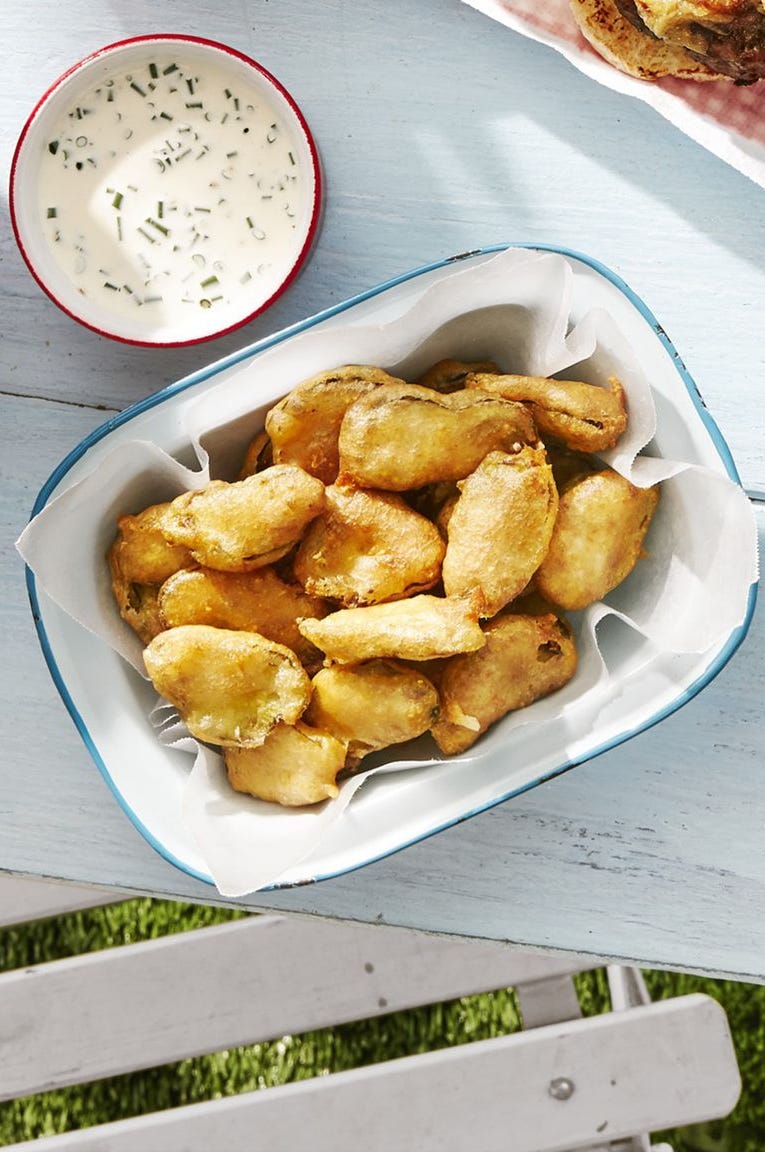 Fried Pickles With Buttermilk Ranch
Ingredients
1 small shallot, chopped
1/2 c. mayonnaise
1/4 c. buttermilk
2 tbsp. finely chopped fresh chives
1/4 tsp. garlic powder
Kosher salt and freshly ground black pepper
3 c. canola oil
3/4 c. all-purpose flour, spooned and leveled
3/4 c. cornstarch
3 tbsp. cornmeal
3/4 tsp. baking soda
1 c. club soda
8 or 9 large pickles (from a 46-ounce jar) cut on the bias into 1/4-inch-thick slices
Directions
Whisk together shallot, mayonnaise, buttermilk, chives, and garlic powder in a bowl. Season with salt and pepper.
Heat oil to 350°F in a medium saucepan. Whisk together flour, cornstarch, cornmeal, and baking soda in a second bowl. Season with salt. Whisk in club soda until combined.
Working in batches, dip pickles in batter, letting excess drip off, and transfer to oil. Fry, turning once, until golden brown, 4 to 6 minutes per side. Transfer to a paper towel-lined plate. Serve with dressing alongside.