2021 Conforming loan limits range from $548K to over $1 million
Tim Lucas – The Mortgage Reports Editor
Conforming loan limits are on the rise.
Home buyers in most of the U.S. can now get a conforming loan up to $548,250 with just 3% down.
And the single-family loan limit is over $822,000 in high-cost areas.
Multifamily home buyers get a nice increase in buying power, too, with limits for 2-4-unit properties topping $1 million in some areas.
On top of this, we're seeing ultra-low interest rates carry over from 2020 into 2021.
Put all it together, and you get incredible purchase and refinance opportunities for home buyers and homeowners alike.
Check today's conforming mortgage rates
---
In this article (Skip to…)
---
Freddie Mac and Fannie Mae loan limits for 2021
Lending limits for conventional loans got a nice boost this year.
The Federal Housing Finance Agency (FHFA) determined home prices are up 7.42% on average across the nation.
It raised conforming loan limits by the same percentage — a dollar increase of almost $38,000 for the standard one-unit home. Multi-unit properties got a similar boost.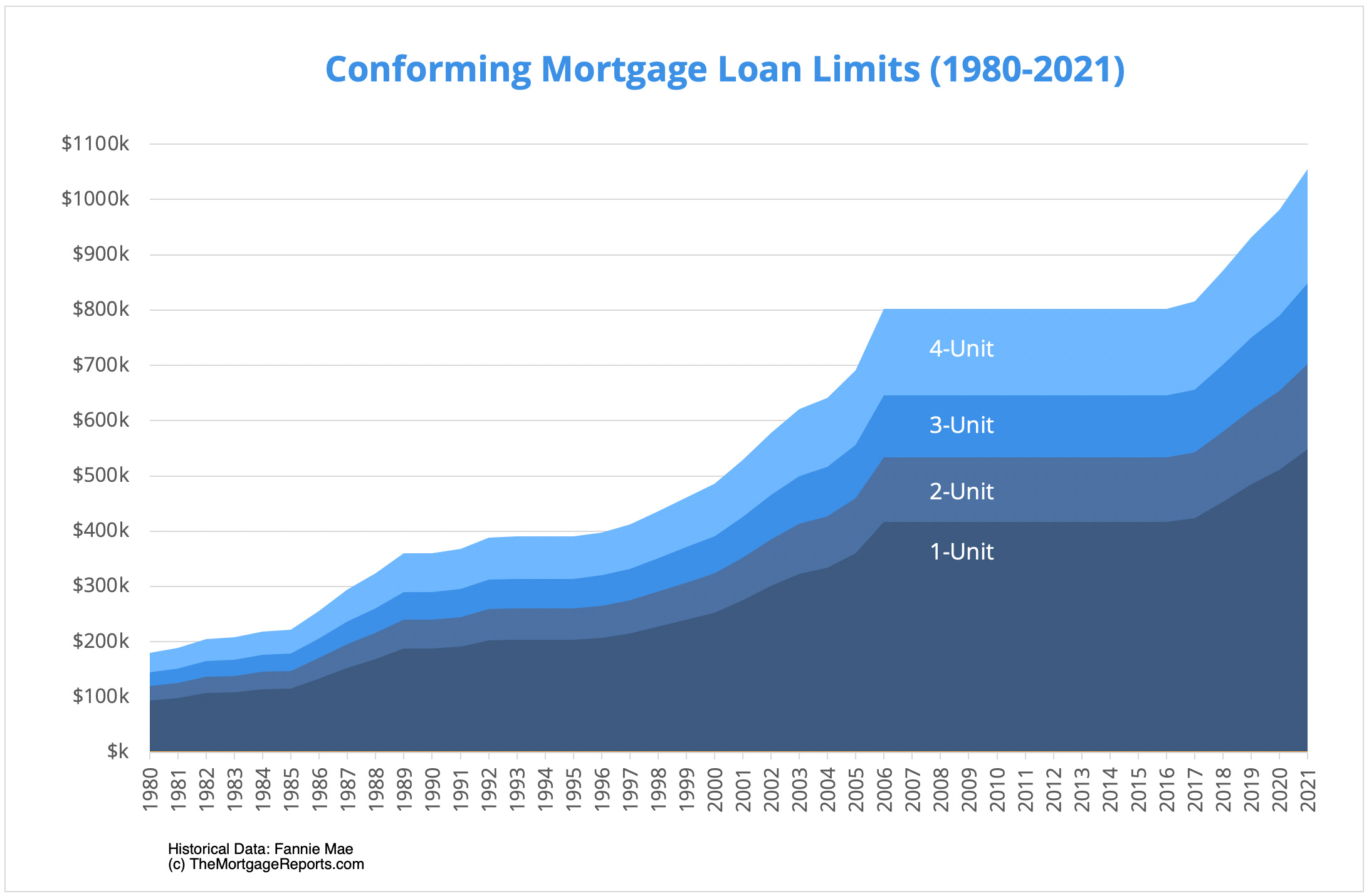 Baseline conforming loan limits
Standard loan limits for 2021, which apply in most of the United States, are as follows:
1-unit homes: $548,250
2-unit homes: $702,000
3-unit homes: $848,500
4-unit homes: $1,054,500
Keep in mind that these are only "standard" limits. In areas with high-cost real estate, buyers get significantly higher mortgage limits.
Maximum conforming loan limits
High-balance conforming loan limits vary by county. They can fall within the following ranges:
1-unit homes: $548,250­–$822,375
2-unit homes: $702,000–$1,053,000
3-unit homes: $848,500–$1,272,750
4-unit homes: $1,054,500–$1,581,750
Areas such as Alameda County, California, Arlington, Virginia, and Jackson, Wyoming enjoy the maximum conforming loan limits, while cities like Seattle, Washington and Baltimore, Maryland fall between the "floor" and the "ceiling."
In Alaska, Hawaii, Guam, and the U.S. Virgin Islands — which follow their own loan limit rules — the baseline loan limit for 2021 is $822,375 for a one-unit property.
Verify your home buying eligibility
Conforming loan limits by county for 2021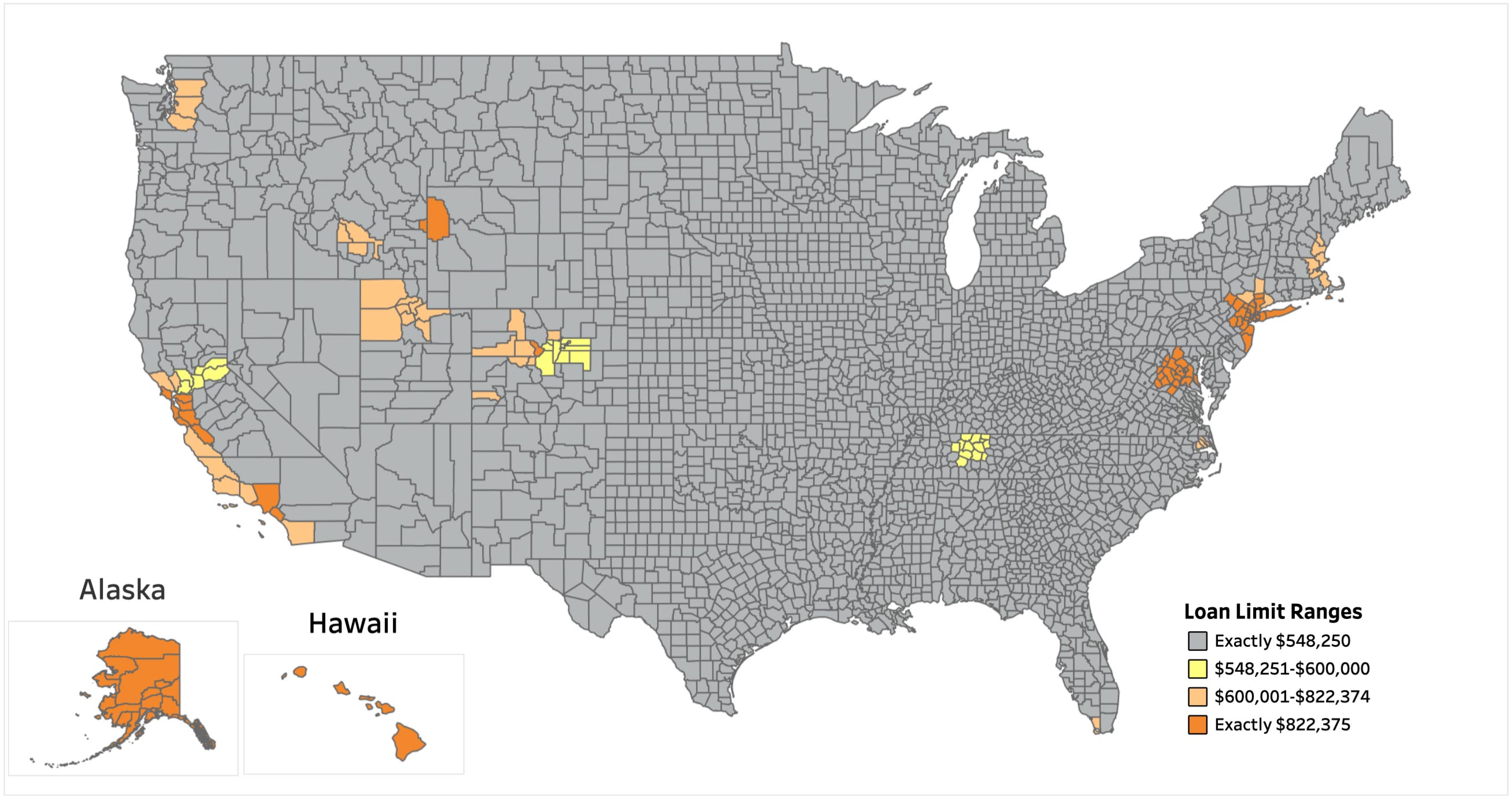 Our Featured Lender:
Over 200+ Billion funded since 2010
Refinance and Lower Your Monthly Payments
Fast and Secure Data Verification Process
Low Rates and Fast Approvals
What is a mortgage loan limit?
A loan limit is the maximum amount you can borrow under certain mortgage programs.
There is not just one loan limit, but many. Conventional mortgages adhere to one set of loan limits, and FHA another. VA loans did away with limits altogether in 2020.
In the world of conforming loans, Fannie Mae and Freddie Mac limit "borrowable" amounts to keep their nationwide programs available to those who need them.
For instance, Fannie Mae doesn't want a $10 million loan going through its system. That's a lot of risk wrapped up in one transaction, and the agency would rather issue many smaller loans to more home buyers.
Fortunately, loan limits are on the rise in 2021 to reflect rising home prices across the country.
What is a conforming loan?
A conforming loan is any mortgage that:
Has a loan amount within local conforming loan limits
Meets lending guidelines set by Fannie Mae and Freddie Mac
Mortgages within conforming loan limits are eligible to be backed by Fannie Mae and Freddie Mac, as long as the borrower meets basic criteria for credit score, income, down payment, and debt levels.
Conforming loans typically require:
A credit score of at least 620
A debt-to-income ratio below 43%
A down payment of at least 3%
Two-year history of stable employment and income
Exact conforming loan requirements can vary by lender, but they all have to meet the minimum guidelines set by Fannie and Freddie.
These standards give lenders and investors more confidence in these loans.
As a result, conforming loans are available with ultra-low mortgage rates and just 3% down payment.
Check today's conforming mortgage rates
What if my loan is over the conforming limit?
Remember that the conforming loan limit applies to the loan amount, not the home price.
For instance, say a buyer is purchasing a 1-unit home in Boulder, Colorado where the limit is $654,350. The home price is $1 million, and the buyer is putting $450,000 down.
This buyer is eligible for a conforming loan. The final loan amount is $550,000 — well within limits for the area.
Still, many applicants will need financing above their local loan limit. For them, a number of solutions exist.
Jumbo loans
The simplest method is to use a jumbo loan. Jumbo mortgages describe any home loan above local conforming limits.
Using the example above, let's say the Boulder, CO home buyer puts down $200,000 on a $1 million home. In this case, their loan amount would be $800,000 — far above the local conforming loan limit of $654,350. This buyer would need to finance their home purchase with a jumbo loan.
You might think jumbo mortgages would have higher interest rates, but that's not always the case.
Jumbo loan rates are often near or even below conventional mortgage rates.
The catch? It's harder to qualify for jumbo financing. You'll likely need a credit score above 700 and a down payment of at least 10-20%.
If you put down less than 20% on a jumbo home purchase, you'll also have to pay for private mortgage insurance (PMI). This would increase your monthly payments and overall loan cost.
The next method helps you avoid PMI when buying above conforming loan limits.
Verify your jumbo loan eligibility
Piggyback financing for high-priced homes
Perhaps the most cost-effective method is to choose a piggyback loan. The piggyback or "80/10/10" loan is a type of financing in which a first and second mortgage are opened at the same time.
Typically, this structure is used to avoid private mortgage insurance.
A buyer can get an 80 percent first mortgage, 10 percent second mortgage (typically a home equity line of credit), and put 10 percent down.
However, these loans are also available for those putting 20 percent down or more. Here's how it would work.
Home price: $700,000
Down payment: $140,000 (20%)
Financing needed: $560,000
Local conforming limit: $548,250
The buyer could structure his or her loan as follows.
Down payment: $140,000
1st mortgage: $548,000
2nd mortgage: $12,000
The home is purchased with a conforming loan and a small second mortgage. The first mortgage may come with better terms than a jumbo loan, and the second mortgage offers a great rate, too.
Verify your piggyback loan eligibility
What's the jumbo loan limit for 2021?
Technically there's no jumbo loan limit for 2021.
Since jumbo mortgages are above the conforming loan limit, they're considered "non-conforming" and are not eligible for lenders to assign to Fannie Mae or Freddie Mac upon closing.
That means the lenders offering jumbo loans are free to set their own criteria, including loan limits.
For example, one lender might set its jumbo loan limit at $2 million, while another might set no limit at all and be willing to finance homes worth tens of millions.
But the amount you can borrow via a jumbo or non-conforming loan is limited by your finances.
You need enough income to make the monthly mortgage payments on your new home. And your debt-to-income ratio (including your future mortgage payment) can't exceed the lender's maximum.
You can use a mortgage calculator to estimate the maximum home price you can likely afford. Or contact a mortgage lender to get a more accurate number.
What if I'm getting an FHA loan?
FHA loans come with their own loan limits. Standard FHA limits for 2021 are as listed below.
1-unit homes: $356,362
2-unit homes: $456,275
3-unit homes: $551,500
4-unit homes: $685,400
You might notice that FHA's limits are considerably lower than conforming limits. That's by design.
The FHA program, backed by the Federal Housing Administration, is meant for home buyers with moderate incomes and credit scores.
But the FHA also suits home buyers in expensive counties. Single-family FHA loan limits reach $822,375 in high-cost areas within the continental U.S. and a surprising $1,233,550 for a 1-unit home in Alaska, Hawaii, Guam, or the Virgin Islands.
What are today's mortgage rates for these loan limits?
Mortgage rates for conforming loans are stellar, which is why so many buyers consider a conforming loan before using jumbo financing.
Get a rate quote for your standard or extended-limit conforming loan. Compare to jumbo rates and piggyback mortgage rates to make sure you're getting the best value.
Source: www.mortgagereports.com